I watched the Oscar telecast yesterday night, even though I had caught up on all the winners online during the day. Still, watching the show is a yearly tradition and I wasn't about to stop now. Here are some of the thoughts I had while watching. I don't really comment on the movies because I haven't seen most of them.
Didn't seem that Neil Patrick Harris was as funny as a host as Ellen was last year, he was more laughing at himself than poking fun. I did like the majority of his jokes (including the running out in his underwear) and I think he kept the show classy without being boring.
That opening montage was awesome! NPH is always at his best when he is singing- and that tune was beautiful. Bonus points for having Anna Kendrick there and letting us believe again in the charm of movies.
Boo for Jack Black ruining it.
Wow that clip of JK Simmons in Whiplash is intense. I want to see the film like right now. Now! Also kudos to him on being nominated in the very first category and just getting to enjoy the night. He also made me laugh about the calling your parents bit
Here come all the categories and winners that no one will remember or talk about: costume design and hair styling.
Wow, that guy from Poland won't let up, huh? Cute speech though, thanking practically everyone he knows. And his drunk friends especially. Ida looks interesting.
Camera keeps panning to Emma Stone in her gorgeous lime green Elie Saab dress. Hands down, best dressed of the night.
EVERYTHING IS AWESOME! That song drives my sister mad, but it got nominated for an Oscar so it's got to be doing something right. Loved, loved, loved that performance, always a treat for me to see Andy Samberg in anything, and those Lego statues! I think it's a real treat for the actors that did get them, almost as good as getting a real one!
Totally missed out on the short movie categories. Boo.
The team who won for Sound Editing from American Sniper had also won for their work on Letters from Iwo Jima. Fair to say they specialize in war movies, and are good at it.
Jared Leto, who looks like he's reused his suit from last year and needs a shave, makes an excellent joke about Meryl Streep that got me laughing all night.
Emma Stone holding her Lego Oscar, hilarious! I'm sure she'll be nominated for more films in the future.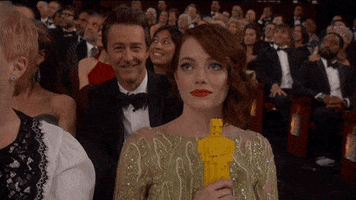 Patrica Arquette wins for Boyhood. Haven't seen the film, but her speech was wonderful and I'm glad someone's talking about gender and pay equality. But are they really underpaid? Don't think so. She looks exactly like her biggest fan at that moment, Meryl Streep, too.
Chris Pratt is presenting! This guy is all over Hollywood thanks to Guardians of the Galaxy– and the upcoming Jurassic World. But he'll always be Andy Dwyer to me!
Yes, yes, yes! Big Hero 6 wins for Best Animated Movie- would've been disappointed if anything else did. Also, need to ask The Rock were he got his suit from because it is so well-made, he looks very good in it.
Birdman wins something! Every year, I watch ONE movie nominated for the Oscars. This year I watched Birdman and loved it. I had commented on the Cinematography being exactly what the film needed to frame the story- and it won.
Bring on the Kleenex! In Memoriam section is up. I don't know most of the people featured but Robin Williams alone tugged on my heartstrings.
Absolute goosebumps watching John Legend and Common perform Glory. Those two ooze talent and their song captures the spirit of the film Selma. Would be a shame if they didn't win, especially with how emotional everyone got
More thoughts on John Legend: you've got to appreciate his drive, but he's rich, talented, married to a supermodel, and got the whole world to sing his song All of Me for the entirety of last year.
Best joke of the night comes at the expense of John Travolta: "Benedict Cumberbatch is… the name you get when you ask John Travolta to pronounce 'Ben Affleck' " Note that Ben Affleck does not laugh or even smile when the camera pans to him.
Glory wins! Well deserved and great speech. This time the cause supported is black rights.
Lady Gaga succeeded in making her performance the most-talked about event of the whole night. She looks like she completely got a personality transformation, but for the better. And that voice! She completely did The Sound of Music justice. I wish she wouldn't have fiddled with her dress as much! Too distracting!
Amazing to see Julie Andrews after all this time. What class!
My favorite category is up next: screenwriting. Birdman wins again, this time for original screenplay, and there's a funny quip where one of the four writers thanks his dog. Hey, inspiration comes in all forms!
Also, do they have to say the full name of this film every time it wins something?
The Imitation Game wins for adapted screenplay. The screenwriter Graham Moore gives a speech that looks like it came straight out of an episode of Glee. I'm not as moved as the rest of Hollywood. Should watch this film though.
Time for another award for Birdman. It's quite hard to follow the accent of Mexican director Alejandro G Inarritu who also think it's an appropriate moment to share with us what underwear he's wearing. Interesting to hear what he has to say, though. But I'm also too distracted by his unkempt hair.
Another distraction from Birdman? Every time they showed Michael Keaton he was chewing gum. Dude, you're at the Oscars for God's sake!
Best reaction of the night comes from Eddie Redamyne who comes across as your normal average guy. Who has just won an Oscar for his performance as Stephen Hawking in The Theory of Everything. Touching words to the Hawking Family and all people suffering from ALS and to the Mrs.
With Julianne Moore winning for Best Actress for her role in Still Alice, it means that no movie has gotten more than one acting honor- which is cool because there are so many great films and performances this year. She emphasizes Alzheimer's Awareness.
And finally, completely surprising us all, Birdman wins Best Picture. I'm seriously surprised that the academy did not vote for a biopic as they usually do. Instead they opted for a film that is probably too close for comfort for most of the people in that hall.
Wait, how many speeches did Alejandro G Inarritu prepare? Each one different than the other- and he left no chance for anyone else to talk. Here's hoping this film doesn't end up being remembered like Crash.
I hope Michael Keaton threw out his gum before going on stage
Final thought of the night: maybe I should watch more movies this year.